Cross Channel Marketing Webcast Summary
Update 2: Coaching Announced for new program here: Instant Customer Revolution Bonus
Update: The webcast is no longer available.  I'd still encourage you read this post for the outstanding success stories.  Also, learn more about how you can apply the strategies of automating Cross Channel follow-up in the next post: Is your follow-up the best it can be?
I was just blown away.  Truly. So I had to share this with you (and yes, it's 2:30 am).  I just saw how a tool that I have been using transformed lives and businesses in success story after success story leading to over $1,000,000 in sales (more on that below).
As you may know, I've been doing what we call Social Video Marketing for our clients and our own ventures. In the process, we've been using some pretty cool tools, including one you may not have heard of called Instant Customer.
It's cool because it integrates lead capture and follow-up in multiple channels (email, text, voice, postcards), and offers evergreen webinars, QR codes, ranks social influence scores of the prospects and much more.  Plus several of my favorite authors (Brendon Burchard, Tony Robbins, etc.) use this system.
…but I'd just used it for some of the more basic features.  Today, they had a webcast showing how other consultants, business owners, authors and marketing technologists have used it and it was filled with great ideas on how to use this powerful system.
That's why I had to share this with you. So, I know this is late notice, but if you are interested in more leads and sales or helping others as a consultant, you really need to check this out now.  They've already released the free video series showing why cross-channel marketing is so important and how you can use it and they opened the doors to the system and training to go along with it.  Whether you're interested in the system or not, I'd suggest you check this out just for the ideas and to see the latest in marketing technology.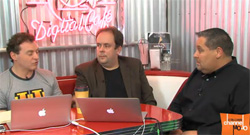 Now, for more on those success stories from today – and yes, I know this will turn into a very long email, but really wanted to share these with you.  Hopefully, they'll spark some ideas for you.
Success Story 1 – Ice Machine Manufacturer
Client had list from years of collecting leads, but never much with it
Consultant worked to build strategies to increase revenue and packaged it into a maintenance program to those existing customers who bought ice machines
Set-up a campaign that combined email, text, voice and webinar automated follow-up.
Sold $250,000 in 7 days and customer is trilled and aims to repeat quarterly
Success Story 2 – Window Manufacturing Dealer
Dealer was $120,000 in the hole and about to be cut off by manufacturer
Consultant put together a simple campaign: 1) set up lead capture page with info on how to get rebates from gov't for energy savings & a coupon for 10% off, 2) set-up Google places listing, 3) set-up automated text and email follow-up campaign.
1 year later, he went from $120,000 in the hole to $200,000 cash on hand and is now one of the top dealers
Client is trilled because saved job and business.
Success Story 3 – Trade Shows
Client who sells grills going to a trade show and did not have a good way to capture leads or follow up.
Consultant set-up a simple 'text your name and number to win a grill' program for client.
They got over 1,000 leads in 2 days.
Plus, SEVEN other businesses at the trade show asked what was going on and asked him to set-up a campaign on the spot.
Plus, the event promoter asked what was going on and he wanted to set-up his own campaign for the whole event.  Then, other trade show promoters saw the benefit and partnered with the consultant as well.
Success Story 4 – Professional Services firms
Consultant works with firms that have been around a long time (Financial services, insurance, consulting).
They are firms who's average new client is worth $10,000 to $100,000.
He set-up a grand re-opening for the businesses that had existing large lists but had not used them to start a series of follow-ups via text, voice, email & webinar.
Consultant charged them $5,000 set-up and $5,000 per month.  Clients have made more than 10x these fees by pulling in new customers from the campaign.
Success Story 5 – Solar Panel Installation Company
They were previously profitable, but had started losing money
They were paying two employees $60,000 per year to do telemarketing (and it wasn't working anymore).
Consultant came in and set-up a lead capture page with automated text voice and email follow-up with a webinar.
Used text message "predicative messaging" quality customers.
There sales boomed and they cut back on telemarketing
Success Story 6 – Sales Trainer / Speaker
Professional Sales Trainer was doing well earning money at speaking events, but didn't have a good way to capture leads or follow up at those events
Consultant set-up 'text name and email' campaign for sales trainer to offer from the stage
The automated follow-up sent a copy of the presentation, 2 more videos with good content & a webinar with a text message reminder the webinar was starting in 10 minutes.
It then replied accordingly to those who did not attend, left early, watched but did not buy, bought
Her sales when from $200,000 per year to $1,000,000 per year because she reached those who she was speaking to and followed up automatically.
She was so trilled with it, and she now mentions this tool as part of her speaking events and that's lead to over $100,000 in referrals for new business.
=========
So, again, sorry this got so long, but thought this could spur ideas in your own business or in helping others with their marketing.  The system comes with templates for all of the above mentioned success stories.
When you click on the links below, you'll learn even more about the system:
— Update: The live training and webcasts are no longer available.  If you are interested in learning more, please contact us. —
1) They are providing more FREE training (with tons of great ideas) on their live webcasts.  The next live webcast times are Friday 2pm to 8pm EST and Saturday 3pm until midnight EST.
Go here for the webcasts: http://su.pr/AtjqzY
2) To see a summary on my blog with link to the FREE videos series on the why and how of Cross Channel Marketing, go here: https://revstreammarketing.com/cross-channel-marketing/
3) To cut right to the video where Mike shares what their program Cross Channel Mojo and Instant Customer are all about, go here: https://revstreammarketing.com/mojo-now/
Enjoy!
…and enjoy this festive holiday season!
Tags: cross channel mojo summary, cross channel mojo webcast, cross channel mojo webcast summary
Feedback
Comments: 1