Christmas Video Greeting 2011
Merry Christmas and Happy Holidays to you and yours!  We hope your holiday season is filled with love and joy.  We made this video to share out best wishes with you…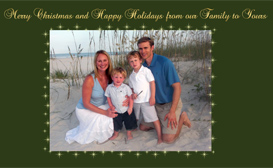 2011 went by in the blink of an eye.  James will be 5 next month!   Just yesterday it seemed Davidson was toddling around, but now he's at full speed running after his big brother.
Despite the challenges of 2011 and dealing with the spirited attitudes of our two wild boys, we celebrate that they are healthy and that we have much to celebrate this holiday season.
Wherever you may be or go, go forth to light love and serve the world and live the life you have always imagined!
We love and miss our friends and family who we haven't seen enough of this year, and we hope to see you soon in 2012.  Until then, keep the faith, love each other and enjoy the simple, wonderful parts of life that mean the most to you.
Merry Christmas, Happy Holidays, and may 2012 be your best year yet!
– – – – –
Previous post: Cross Channel Marketing Webcast Summary,
Next Post: Is your follow-up the best it can be?
Feedback
Comments: 6