Lessons from a Billion Dollar Launch
Learn how a company sold $150 million of a brand new product in 1 day;
Then they made $1 billion on an upgrade of an older product in one week, and
How you can immediately apply their lessons to help your business
attract more clients and close more sales.
Plus, see how you can win one of their products for free!
You can click play to watch the video or see the written version below for all the answers and be sure to leave a comment at the end to be eligible for the prize [Update: The contest has ended.  See details below].
If video buffers with a slower internet connection, please click pause to let the video load and then click play to resume.
$1 billion and $150 million may sound like big numbers and yes, it's for a larger company, but the strategies and tactics used by that company can work even better for smaller firms.
Before I disclose the company, here's what happened:
Earlier this year, a company released a brand new product.  This was a product that no one had before.  No one needed this product.  It was simply a luxury item that people wanted to have.  It was priced at $499 and they sold over 300,000 units in the 1st day.
A few months later, they released a new version of an older product.  Again, this was a luxury upgrade that no one needed to have.  They sold 1.7 million units in the opening weekend and that made them over $1 billion.
So, here's a case where people bought a huge amount of a product they did not need, but rather was a luxury item that they just wanted to have.  Does this sound like we are in an "economic crisis" as the mass media keeps telling us?  No, it doesn't, but it does suggest there are still quite of lot of people that are spending money.
Plus, in creating these huge sales, the company didn't spend much money at all.  There was no Super Bowl ad.  They didn't spend much on adverting.   It was all done by building a buzz and was promoted – virtually for free – via blogs, online video, online forums and social media, where others we talking about the product and thus selling it for them.
In addition, the retail stores for this company have the highest sales per square foot of any retail store in the nation.
Do you think your business could benefit from applying the lessons they used?  Absolutely.
So, how is all this possible and which company is it?  Of course, there's a lot that goes into it, but I thought I'd breakdown the formula that Apple has used to generate these massive sales so you can apply it to your business:
1.    Make sure what you provide makes people happy.
That's what Apple's products do.  People love to use them and everything the company sends out conveys the feeling of "We will bring you happiness when you use our products."  You can figure out a way to make your product or service do the same.
2.    Earn the clients permission and trust before selling to them.
Nobody wants to be sold to, especially when it is something they do not want.  Many businesses go right to the sales pitch when first seeing a new prospect, but it has been proven that it is much better to provide value up front and earn permission and trust before starting the pitch
3.    Everything associated with your company should be a positive experience for your client.
From the simple, yet distinctive Apple packaging to the easy online how-to video tutorials to the exceptional quality products, it all brings a positive experience to the clients and that's what creates such fans.
4.    Know your true target market.  Find out what they really want. Don't try to please everyone, and just give your market exactly what they want.
Yes, this is true for large companies too.  Even at Apple.  Their products are not compatible will all types of programs.  Steve Jobs said, "Apple is a company that does not have the most resources in the world.  The way we have succeeded is by choosing which horses to ride carefully."
5.    Be willing to fail. Never sit back and rest.  Keep pushing forward. Always keep making it happen.
This concept is ingrained in the Apple culture.  That what leads to more and more innovative products.  Keeping abreast of your industry, seeing the future and making it happen keeps you on the cutting edge.
6.   What you sell should be of extremely high quality.
Apple's products are typically more expensive then their competitors' products, but they are also of higher quality.  According to reports, their products last longer and receive higher customer satisfaction ratings.  This is how they have the highest revenue per square foot of any retail store in the nation.
7.    Make sure what you provide creates a buzz (it's worth talking about and people talk about you).
This year, there was more buzz for Apple's iPhone4 launch than just about anything else.  How?  In January, rumors of the iPhone 4 were leaked to the press, thus creating an initial PR buzz, and the scarcity of the details added to the desire to know more.  In April, a prototype of the new phone was found in a bar in California and made its way to a top technology blog, which created a huge buzz.  On June 7, Steve Jobs gave a keynote presentation releasing more details, again creating a buzz.  Then, the video of the speech was shared online, generating a massive amount of free press.  Finally, press releases were sent out on June 11 and 14 before the launch of pre-orders on June 15.  All of these together lead to the billion dollar launch.
8.    The product/service should be broken down to the simplest possible way for your client to buy and use it.
Transactions can be slowed or stopped by being too complex and having too many options.  Simplicity wins.  Make it easy for prospects to buy and they will be more likely to do so.
9.   Turn the marketing into an event that creates anticipation.
See # 7 above.  That was not just marketing.  They created an event with the launch and it worked.
10.   Work with others, even competitors to better serve your clients and build a platform for the collaboration.
Synergy always makes projects work better.  I'm a firm believer in the 80/20 rule, which states 20% of what you do creates 80% of the value.  When applied to personal productivity, you focus on doing the 20% that you can be the best in the world at doing and thus have others use their talents to take care of the other 80%.  Working with others who are great at what they do makes everyone better.  Even working with competitors (and when appropriate going as far as to promote each other) can raise the standards for the whole industry.  When you can create a place for clients to collaborate, it further propels your brand.  Just look at how much Apple has done to create the opportunity for developers to create Apps for their devices.
11.   Give your customers a badge of honor.
How many times have you seen those little stickers with the Apple logo on the back of cars?  If you think about it, it's a bit strange that there would be that much pride in a computer company, but that logo has come to be a badge of honor as if it were saying, "I am the proud owner of a great product," and they wear it with pride, like they are part an exclusive club.
12.   Promote yourself and your business with pride.
Just as you want your customers to be proud to use your products, you should promote your business with pride as well.  Standing in the shadows does not get you noticed, but promoting yourself and your business in a remarkable way will.  Again, Apple is rather shameless in their self-promotion aren't they?  Look where it's gotten them.
By the way, do you know which company is #2 on the highest revenue per square foot list?  Tiffany & Co.  They do a pretty good job too of following the above to create a positive image for their brand.
You may not be as large as Apple or Tiffany & Co., but you can start applying these strategies right now so you will be on your way to attracting more clients and closing more sales.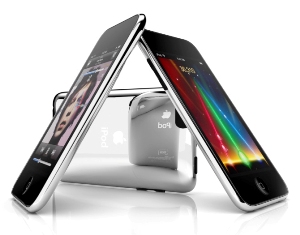 Plus, please leave a comment on the blog about how you have used or plan to use any of these tactics to achieve success in your business.
The user with the most insightful comment will win an Apple product… an 8GB ipod touch or a $200 gift certificate to the Apple Store!

We'll be choosing the winner soon, so leave your comment now.
Oh, and one final note, if you found this helpful, use the Share icons below to share this with others you feel would find this helpful and mention that in the comments too.  There may be a prize for the best use of sharing via social media too.
This post is the first in this series. For the second in the series, click, 'How Web 2.0 Marketing Works.'
Update: Thank you for all the contributors and those submitting comments.  To select the winner, we brought in an independent PR and Education consultant, and she selected Mayor Nancy Harris as the winner due to her insightful comments which both addressed the points in the post as well as compared these business steps to her role in government.  Congratulations Mayor Harris!
Tags: Apple, Featured, Product Launch
Feedback
Comments: 15