Christmas in July for Your Website, Video and Online Marketing
Update: It's no longer July, but we've really appreciated the positive feedback on this post.  Therefore, we've updated it, so you can still learn how to receive FREE training and how to have your web, video and online work taken care of for you. Enjoy!
FREE online marketing video series + see below for examples of what's worked!

How's your website and online marketing working for you?
Could they use some updates?  If so, here's the mid-summer gift you've been waiting for!
Want to learn how for FREE?
In celebration of the release of our new comprehensive training, The Map to Online Marketing Success, we're offering a FREE video series so you can learn the steps and best online tools to grow your business!
Join our free info-packed video series by filling our the form in the upper right of this page, or click here to see the first free video on what it takes to succeed in marketing your business today!
In this video series, you will learn about our formula to online marketing success:
Or, do you prefer to have the work done for you?
If so, Have you been paying too much? I had the fortune to start using overseas development centers in 1999, and 12 years later, I've fine tuned the process to have a truly outstanding team around the world.  In the past, I was paying five times as much for local contractors. Of course, we still use local talent for videography and writing, but now, with our system and virtual office, much of the work is completed by our overseas team and we pass the savings on to you!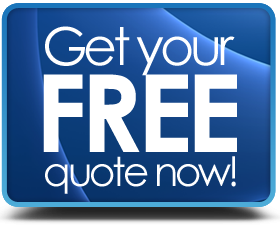 There are thousands of online tools to boost your business, but keep it simple.  Look at the biggest ones that can bring you the most business in the fastest amount of time. Are you effectively using the simple formula shown above?
YouTube + Facebook + Google + Website (with lead capture and automated follow-up)
= Traffic, Leads and Sales
If not, here's a few recent examples of how we've helped clients in these areas:
YouTube Marketing
You've no doubt tried to get your website ranked high in the search engines, but are you neglecting one?  YouTube is the second largest search engine in the world and its results show up on Google search results, so you could call it the largest search engine.  Plus, YouTube is already a wildly popular site and your website likely is not, so which has a better chance of ranking in search engines quickly – your website or a YouTube video?   Video.
YouTube Case Study: One of my clients runs an Atlanta pest control service business. They contacted me because they had acquired a company that was going to be a new division for them. Since they had not offered the service before, they of course were not found online for this keyword phase. This new division is a seasonal business so they wanted to get rankings in the search engines quickly since that season was coming up fast. We set-up the program and they hit the first page of results in less than a day, had multiple listings with 3 days and within a month, they ranked #1, 2, 3 and 6 on the 1st page of Google's organic search results for the keyword phase in their local area with the top three all being from video!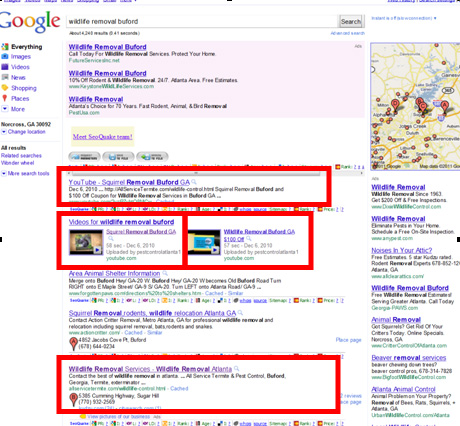 Need high-end testimonial videos to show your prospects you do an outstanding job?  Here's one for an Atlanta remodeler and custom home builder:
Or, want to build trust by helping your prospects by sharing what you know with very affordable videos?  We're doing over 100 videos for a 5k Training coach.  The project is still in pre-launch, but you can see an example of a video below and see an example of the custom YouTube background we designed on the 5k Training YouTube channel.

Facebook Marketing

Are you using the world's largest social network to promote your business?  You may have heard about putting up a business page for your business or may have done it, but are your visitors seeing what you want them to see?  Most all pages default to go to the wall for the Page, but this is not very compelling.  Instead, have you considered a custom welcome page?  Here's an example we did for an Atlanta window blinds company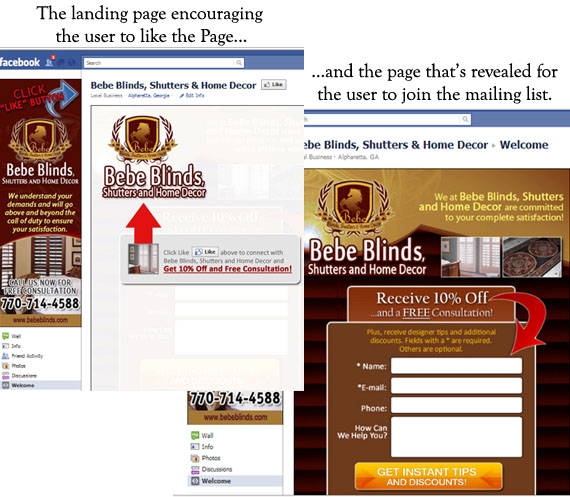 Google Marketing
The world's largest search engine with hundreds of thousands of searches per day!  Your prospects are looking there.  Are you being found there?
If you are local business, you've likely seen the Google Maps results are dominating those for local searches. You can see the screen shot below where my dad's company is coming up #1 in the Maps results … and those map results are now above the rest of the organic results.  If you're a local business and aren't doing Google Places optimization, you need to be.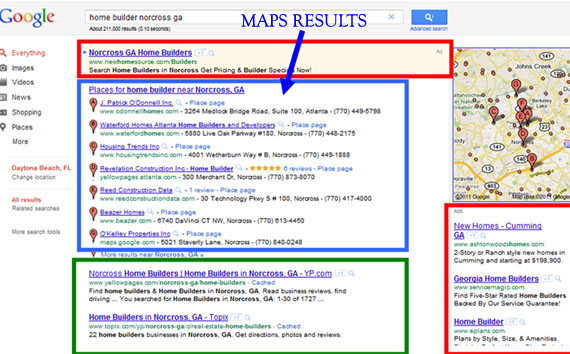 Website
Websites in the past were put online to be like static brochures.  This is not the point of a website. Use it like your sales system.  Be sure it has a lead capture and follow-up system.
For example, to continue the Facebook example from above, the well established Atlanta Window Blinds company wanted to re-do their entire brand… new logo and new website to go along with their new Facebook Page.  All of this was created and online in a matter of weeks.
Is your online marketing system selling for you?
There is a great power in having your website sell for you.  Lead capture with automated lead follow-up allows your website sales system to sell for you 24/7.
For a college planner, in less than a week, we set-up a new Facebook Page and landing page with an automated lead capture (so prospects could request more information by sending a text message or e-mail) and a follow-up system to deliver the content via e-mail, text or voice mail messages.
In preparation to launch their business, they went to a speaking event and asked those interested in learning more to send a text message right then when they were most engaged.  The system we set up for them followed up to obtain their e-mail address and sent them the documents they requested.
The company added 30 new leads to their automated text and email follow-up system before they had even launched their complete website!
The possibilities are endless.  You just have to take action.
What are people saying?
We are thrilled to hear how our clients are pleased with our results.  This blog post has gotten a bit too long, so I'll just share one here from a truly outstanding and inspiring person and coach who runs Philadelphia Basketball Camps:

Next steps?
Your turn.  Time to take action.  Either 1) Learn how to do it yourself and join the free webinar on Facebook or 2) Click the button below for a free quote.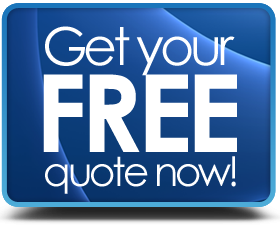 Also, do you know anyone else who could benefit from this information?  If so, please use the share icons below to post on your social networks or share via e-mail, and let me know your thoughts by leaving a comment below.  Thanks and go forth to live the life you have always imagined!
Tags: Facebook Marketing, Google Maps, Google Places Optimzation, Video Marketing, YouTube Marketing
Feedback
Comments: 5