Tony Robbins Unleash the Power Within Playlist
The music from UPW was awesome!  Feel the energy again with this Unleash the Power Within Playlist.
Which UPW did you attend?  If you attended Fort Lauderdale 2011, join our Facebook group here: Tony Robbins' Unleash the Power Within, Ft. Lauderdale, FL 2011
Here's a UPW playlist with some of the songs played, plus a few extras.  Want to share this with other attendees?  Use the Share icons below.  Also, if you remember any other songs played, leave a comment below and I'll be sure to add them.   Enjoy!
Unleash the Power Within Playlist
Playlist Includes: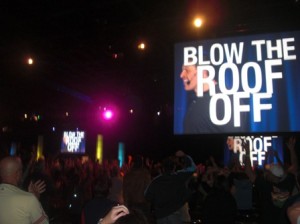 Songs Played at UPW:
1 Life Haddaway
2 Vertigo U2
3 You Shook Me All Night Long Ac/Dc
4 Higher Creed
5 Chariots Of Fire (Theme)
6 I Got A Feeling Black Eyed Peas
7 Oh My Gosh Usher
8 Rocky Theme
9 How you Remind me Nickleback
10 Smells Like Teen Spirit Nirvana
11 Eye Of The Tiger Survivor
12 What Is Love Haddaway
13 Dream On Aerosmith
14 simply the best blonde ambition
15 Barracuda Heart
16 Sweet Child O Mine Guns n Roses
17 Beautiful Day U2
18 This is Your Life Switchfoot
Other Inspirational Songs that Fit the Theme
19 Given to Fly Pearl Jam
20 Dont Stop Believing Journey
21 Life Is Beautiful Sixx AM
22 Unthought Known Pearl Jam
23 Rise Above This, Seether
24 Breaking The Habit Linkin Park
25 Headstrong Trapt
26 Land Of Confusion Disturbed
27 Amongst The Waves Pearl Jam
28 Rise Today Alter Bridge
29 It Just Takes Some Time Jimmy Eat World
30 Hail, Hail Pearl Jam
31 Come Together Third Day