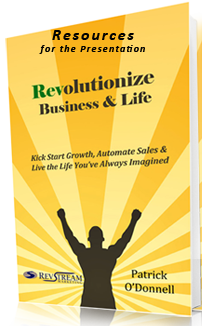 I hope you enjoyed the presentation! You can download the .pdf with the resources mentioned in the presentation by clicking here or by clicking on the image to the right.
Please note: This is a large document so depending on your Internet connection, it may take a while to open or download. You may click the link to open the document, or right click the link to save it to your computer.
You will need Adobe Reader to view this document. Click here to download Adobe Reader for free.
In addition, I wanted to share a very special offer with you.
The point of this presentation was to give you the strategies, tools and inspiration to revolutionize your business and your life!  We truly hope it did that.  At this point, you may be totally ready to go, or you may be overwhelmed by the technology.  As mentioned in the presentation, there are many people in this world ready to take care of the work for you.
At RevStream Marketing, we loving helping people and organizations with their marketing technology.  You can skip the learning curve and have us take care of the details for you.  As we shared, we have limited spaces for new clients and want to be certain that the program will be successful for you.  Therefore, an application is required to ensure there will be a fit.  There is a $100 application fee to reserve your spot.
After you submit your application, we'll be in touch to set a time to discuss your organization, set-up the strategy and determine which components you would like included.  When we move forward, the $100 application fee will be applied to the investment in the program.  If we determine there is not a fit, the $100 fee will be returned.
To start the process, simply click on the Add to Cart button below to submit the $100 deposit and application and we'll be back in touch shortly.
We look forward to working together, and remember in all you do…
Go forth to light, love and serve the world and live the life you've always imagined!